Frank Owen Gehry
Born Ephraim Owen Goldberg
February 28, 1929
He is a Jewish Canadian-American Pritzker Prize-winning architect based in Los Angeles, California.

His buildings, including his private residence, have become tourist attractions. Many museums, companies, and cities seek Gehry's services as a badge of distinction, beyond the product he delivers.

His best-known works include the titanium-covered Guggenheim Museum in Bilbao, Spanish Basque Country, Walt Disney Concert Hall in downtown Los Angeles, Experience Music Project in Seattle, Weisman Art Museum in Minneapolis, Dancing House in Prague, Czech Republic and the MARTa Museum in Herford, Germany. However, it was his private residence in Santa Monica, California, which jump-started his career, lifting it from the status of "paper architecture," a phenomenon that many famous architects have experienced in their formative decades through experimentation almost exclusively on paper before receiving their first major commission in later years.

Architectural style

Much of Gehry's work falls within the style of Deconstructivism. Deconstructivism, also known as DeCon Architecture, is often referred to as post-structuralist in nature for its ability to go beyond current modalities of structural definition. In architecture, its application tends to depart from modernism in its inherent criticism of culturally inherited givens such as societal goals and functional necessity. Because of this, unlike early modernist structures, DeCon structures are not required to reflect specific social or universal ideas, such as speed or universality of form, and they do not reflect a belief that form follows function. Gehry's own Santa Monica residence is a commonly cited example of deconstructivist architecture, as it was so drastically divorced from its original context, and, in such a manner, as to subvert its original spatial intention.

Gehry is sometimes associated with what is known as the "Los Angeles School," or the "Santa Monica School" of architecture. The appropriateness of this designation and the existence of such a school, however, remains controversial due to the lack of a unifying philosophy or theory. This designation stems from the Los Angeles area's producing a group of the most influential postmodern architects, including such notable Gehry contemporaries as Eric Owen Moss and Pritzker Prize-winner Thom Mayne of Morphosis, as well as the famous schools of architecture at the Southern California Institute of Architecture (co-founded by Thom Mayne), UCLA, and USC where Gehry is a member of the Board of Directors.

Gehry's style at times seems unfinished or even crude, but his work is consistent with the California 'funk' art movement in the 1960s and early 1970s, which featured the use of inexpensive found objects and non-traditional media such as clay to make serious art. Gehry has been called 'the apostle of chain-link fencing and corrugated metal siding' (B. Adams). However, a retrospective exhibit at the Whitney Museum (New York) in 1988 revealed that he is also a sophisticated classical artist, who knows European art history and contemporary sculpture and painting.
Awards
Gehry was elected to the College of Fellows of the American Institute of Architects (A.I.A.) in 1974, and he has received many national, regional, and local A.I.A. awards, including A.I.A. Los Angeles Chapter Gold Medal. He presently serves on the steering committee of the Aga Khan Award for Architecture.Frank Gehry was awarded the Pritzker Architecture Prize at the Todaiji Buddhist Temple in 1989. The Pritzker Prize serves to honor a living architect whose built work demonstrates a combination of those qualities of talent, vision, and commitment, which has produced consistent and significant contributions to humanity and the built environment through the art of architecture.
Works
The Gehry Tower in Hannover, Germany
Der Neue Zollhof in Media harbour, Düsseldorf, Germany
Dancing House in Prague, Czech Republic
Marqués de Riscal Vineyard Hotel, Elciego, Spain

ArhGB




Mesaje

: 21


Data de inscriere

: 02/02/2010


Varsta

: 28


Localizare

: high*



Gehry Tower is a nine-story building constructed by architect Frank Gehry; it is located at the Steintor, Goethestraße 13a, in Hanover, Germany. The building was commissioned by the city-owned Hanover Transport Services (üstra), for whom Gehry also designed a bus stop in the city.

Constructed of stainless steel, the tower is memorable for the noticeable twist in its outer façade on a ferroconcrete core, making optimal use of the relatively small piece of ground on which it is located[citation needed]. Like many of Gehry's buildings, the tower was created with the most modern technology available at the time. Gehry's office first created a 1:100 model, which was then scanned and imported into CAD software to be able to compute the dimensions for the individual parts, all of which vary in size and shape.

Construction began in 1999, cost 8.5 million Deutsche Mark, and the building was officially opened June 28, 2001.

ArhGB




Mesaje

: 21


Data de inscriere

: 02/02/2010


Varsta

: 28


Localizare

: high*



The Dancing House (Czech: Tančící dům) is the nickname given to the Nationale-Nederlanden building in downtown Prague, Czech Republic at Rašínovo nábřeží 80, 120 00 Praha 2. It was designed by Croatian-Czech architect Vlado Milunić in co-operation with Canadian architect Frank Gehry on a vacant riverfront plot (where the previous building had been destroyed during the Bombing of Prague in 1945). The building was designed in 1992 and completed in 1996.
The very non-traditional design was controversial at the time. Czech president Václav Havel, who lived for decades next to the site, had supported it, hoping that the building would become a center of cultural activity.

Originally named Fred and Ginger (after Fred Astaire and Ginger Rogers - the house vaguely resembles a pair of dancers) the house stands out among the Baroque, Gothic and Art Nouveau buildings for which Prague is famous. Others have nicknamed it "Drunk House".

On the roof is a French restaurant with magnificent views of the city. The building's other tenants include several multinational firms. (The plans for a cultural center have yet to be realized.)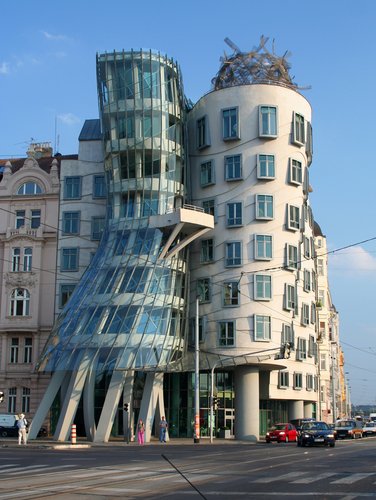 ArhGB




Mesaje

: 21


Data de inscriere

: 02/02/2010


Varsta

: 28


Localizare

: high*



---
Permisiunile acestui forum:
Nu puteti
raspunde la subiectele acestui forum